EcoColors In The News
The story of EcoColors started more than 20 years ago...


OWNER TO OWNER (SalonNews)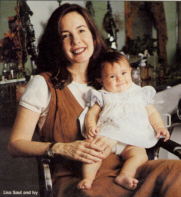 SalonNews (1998)
Reactions to the chemicals in the hair color she was using could have driven Lisa out of the business she loves. Instead of giving up, she created her own alternative.
As the world becomes more aware of the benefits of natural products and more concerned about the harm caused by toxic chemicals, changes are happening in all industries. For me, Creating Organica, a completely non-toxic hair salon in Atlanta (now renamed EcoColors), was a natural evolution in both my career and my personal life. At first, I couldn't see the connections in the path I took to where I am today, but now I do, and I hope to continue to grow and educate other salon owners as to the alternatives available to them.
My mother was a nurse, and she sparked my curiosity about medicine, which is how I ended up in the Medical College of Georgia in Augusta. I took a job as a medical technologist. I worked in a laboratory at Piedmont Hospital in Atlanta. My job was to perform chemical and immunological tests, and I discovered a lot about the effects various chemicals can have on the human body. But while I was working there, I was also attending beauty school at night, because being a hairstylist was my true dream. At that time, I couldn't see the connection between the medical industry and the hair care industry, but now I do.
I started working in a salon in 1985. I was dedicated to the profession and quickly started doing hair shows. I affiliated myself with a hair color manufacturer and taught hair coloring around the country. Eventually I developed rashes on my wrists and elbows, had a chronic runny and became asthmatic. At the same time I was pregnant with my first child. I began to worry that the various chemicals used in the salon were doing this to me, they might also be affecting my unborn child. This is how my mission began.
I started doing research and found that phenylenediamine (ppd), a chemical used in hair color, had proven to cause many of the symptoms I experienced. While studies were proving it had potentially harmful side effects, no one had been concerned enough to look for other options. After some research, I formulated our hair colorant. And I found my 1100 square foot garden level space and opened "Organica - A Natural Hair Salon" in 1991.
It is interesting to see the range of people who walk in my door, from cancer patients and pregnant women to people with chemical sensitivities and those who just prefer natural products. I get a lot of referrals from doctors and people in the healthcare industry, but we also have clients who appreciate our laid-back, holistic mentality.
My staff has come to work at Organica for the same reasons. Some of them had quit the business because of chemical reactions and others are just curious as to what I do. Currently, I have one junior stylist and an apprentice working for me. We also have on call massage therapists and mendhi body artist.
I also buy hair products from two mainstream manufacturers, which I like because of their ingredients and their performance. I also buy a lot of things from natural product distributors - things like soaps, aromatherapy oils, lotions and botanical hair care products. I 've found that my customers read the labels, so I try to pick product with as few synthetic ingredients as possible. I also found a non-toxic perm I work with as well. Not as many of my clients get perms anymore, but about 80 percent of my customers get hair color.
The biggest thing people notice when they come in the shop is that it smells good. There are no fumes from color, perming solution or even hairspray, which we use sparingly. Everything we use in the shop is safe, from the sink cleaner to the bug spray. I bring Ivy, my six-month-old daughter, to work with me every day, and I don't have to worry about any possible chemical hazards. We have a little station set for children so customers know they are welcome here. We even have some families that book all their appointments together.
At this point, we started manufacturing and distributing the hair color and about a year ago. There are now about 20 salons using it. I am not trying to tell people not to use other hair color, or that the choices they have made are wrong - I just want them to know they can get great coverage and beautiful color with a non toxic product. My mission is to educate people that there is an alternative, and many salons could benefit from it.
I feel good about where I am going. Next year, I am opening a second salon inside a very popular natural food cooperative here in Atlanta. I realize that what I believe in is not for everyone, but I feel like I am doing more than just physically working with hair - I am nurturing positive mental and spiritual attitudes. Most importantly, I'm giving clients - and myself - The opportunity to use hair color without experiencing harmful side effects from chemicals.
SalonNews 1998
To this day, EcoColors is the expert authority about non-toxic and natural hair products since 1998