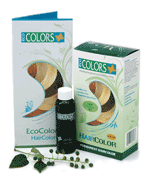 Are you tired of unhealthy dry lifeless hair? Are you suffering from hair loss? It could be because of your current hair color and their harmful ingredients.

Well, your search is over! Gray coverage, highlights, lowlights, ombre or hair color enhancements are now at your fingertips!
EcoColors permanent natural based at home hair colors kits are now available to the public in 15 natural hair color shades. Professional strengthening hair color to cover gray hairs, create subtle highlights or tone your hair color!
If you are conscious about what kind of chemicals you expose yourself to, or you don't have time to go to your hair stylist, looking beautiful is still easy. Order your hair color kit to be sent directly to you, and color your hair at home.
EcoColors' natural base is rich in naturally derived oils and will restore you hair to a vibrant healthy look that is sure to get you compliments.
We strive for your complete satisfaction, if you need help choosing a hair color, contact us and one of our hair coloring specialists will help you find the best color choices for your hair type.