EcoColors Hair Color
Salon Professional Permanent Hair Colors
Often imitated, never equaled, EcoColors Professional natural hair colors are formulated for salon professionals for 100% permanent gray coverage with up to four levels of lightening (lift).
It is a soy derived hair color line, made with natural and certified organic ingredients.
We know you care about your health and the health of your clients, EcoColors Professional Hair Color is a safe hair dye formulated for men and women with all hair types as well as chemically sensitive people.

Our hair color is used by hair stylists and colorists around the world since 1998!
Come join us, and the thousands of successful salon professionals who use EcoColors line of natural base hair dyes.


EcoColors Professional Hair Color Line
At Home Natural Hair Color Kits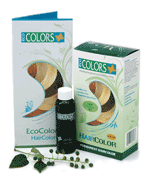 Permanently cover grey hair, highlights, lowlights, ombre or hair color enhancements are now at your fingertips!

EcoColors at home hair colors kits are now available to the public in 15 natural hair colour shades!
Salon quality strengthening hair color to cover grey hair, create subtle highlights or simply tone your hair color.

Are you conscious about what kind of chemicals you expose yourself to? Have sensibilities or allergies to certain chemicals present in hair dyes such as gluten (celiac disease), sulfites, propylene glycol or PPD? Or you just don't have time to go to your hair stylist? Having shiny, healthy, beautiful hair is still easy!
Order your home hair color kit to be sent directly to you, and dye your hair in the comfort of your home!




EcoColors Non Toxic Home Hair Color Kits